Jakarta is chock full of seafood stands, dotting the roadsides. How to pin point the ones that are good and clean? Pick the crowded ones. Like this amazing place on Jl. Wolter Monginsidi, Seafood 68.
Seperti warung2 seafood pada umumnya, mereka buka pada malam hari dan tutup dini hari. Tempatnya bersih dan ramai, makanannya cepet dateng. Abis pesen, kita disuguhin otak2 buat nyemil (bayar tentunya). Seperti biasa, gue dan keluarga gue pesen Kerang Dara Rebus, Kerang Hijau Saus Padang, Baronang Bakar, dan Cah Kangkung.
I love their kerang dara. Bukannya kerang dara dimana mana sama? oh tentu tidak. Di sini kerangnya tender dan sama sekali nggak amis, fresh banget, dan dipping saucenya juga segeer. Kalo ga dihentikan gue bisa makan 5 piring sendiri kali. Paling asik nyemil kerang rebus.
Kangkungnya lupa difoto hahaha tapi yang jelas kangkung mereka itu just the way I like it. Crunchy dan asinnn.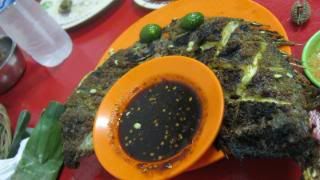 Baronang bakar mereka juga juara. Bumbunya itu lho, nyeresep banget, dan kecap cabenya mereka itu pedesnya asik! Ikan mereka dipotongnya juga jadi bikin mudah dimakan. Ikan2 lainnya seperti bawal juga enak, tapi rekomendasi gue adalah bakar aja semuanya, karena lebih taaasty.
INI DIA JUARANYA. kerang ijo saus padang. Dayummmmm enaknyaaa ga pernah gue temui di tempat seafood semahal apapun. Gatau gimana caranya, kerang mereka ini luarnya crispy tapi dalemnya lembut banget, jadi kerangnya sendiri udah gurih. Terus saos padangnya itu enak banget, pedesnya, asinnya, pas banget. Paling enak dimakan pake nasi panas. Biasanya keluarga gue pesen 2 sampe 3 piring hahaha the best.
Soal harga, sepiring sekitar 20-30 ribu kalo nggak salah. Dijamin bersih, gue belom pernah sakit perut abis makan disini. Dan dijamin puas! Cumi goreng tepung dan udang goreng menteganya juga enak. kayaknya semuanya enak hahaha intinya jangan malu2 pesennya kalo makan disini ;;--))