So, my favorite steak place, Holycow!, now has a new dessert option and it's super awesome. They now have RED VELVET CUPCAKES!!!!! Cupcakes themselves are awesome, but red velvets are without a doubt the best. The best ones are still the ones from Sprinkles, a delicious cupcake cafe in Dallas. Red velvets are very trendy nowadays in Jakarta, and I was eager to try Cupcakes and Co.'s version. Especially because they are free! When you mention @holycowsteak in your tweet and show it to the waiter, you'll get a free dessert of your choice, a tiramisu or a cupcake, while stocks last. I had a wagyu ribeye, as usual, and now I have a proper picture to show everybody how awesome looking my favorite steak is!!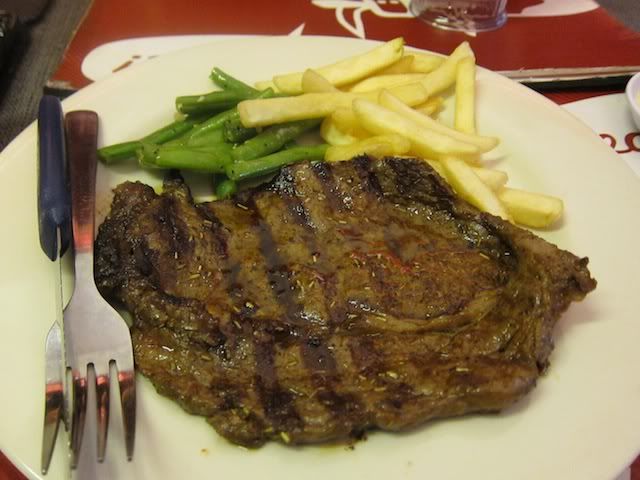 Can you see all the juicy fat? It's WONDERFUL.
But this post isn't about the steak, it's about the cupcakes!
It's pretty, isn't it? The piece of red fondant has Buddy, Holycow's mascot, pressed on it. The icing is, of course, cream cheese. I bit into it, and it really was velvety. Soft and luxurious. It was sweet but not too sweet, and the cream cheese was a perfect match. It was an awesome cupcake! The only downside was this cupcake was tiny. Well, it was free. I checked out their blog and boy, their cupcakes look super awesome. Go check 'em out! http://cupcakescompany.blogspot.com