I've mentioned Sopra in my y&y pizza post, saying it deserves its own post. And yes it does. I had an early dinner at Sopra with my sister today, because I was craaaaaaving for pizza and Sopra's pizzas are fresh and not junkfoody. It's located right above The Coffee Bean, on the 1st floor. Enter through the Hermes entrance, go left, and take the escalator.
I ordered the Stagioni pizza for both of us, a Minestrone for me, and my sister ordered a spaghetti carbonara.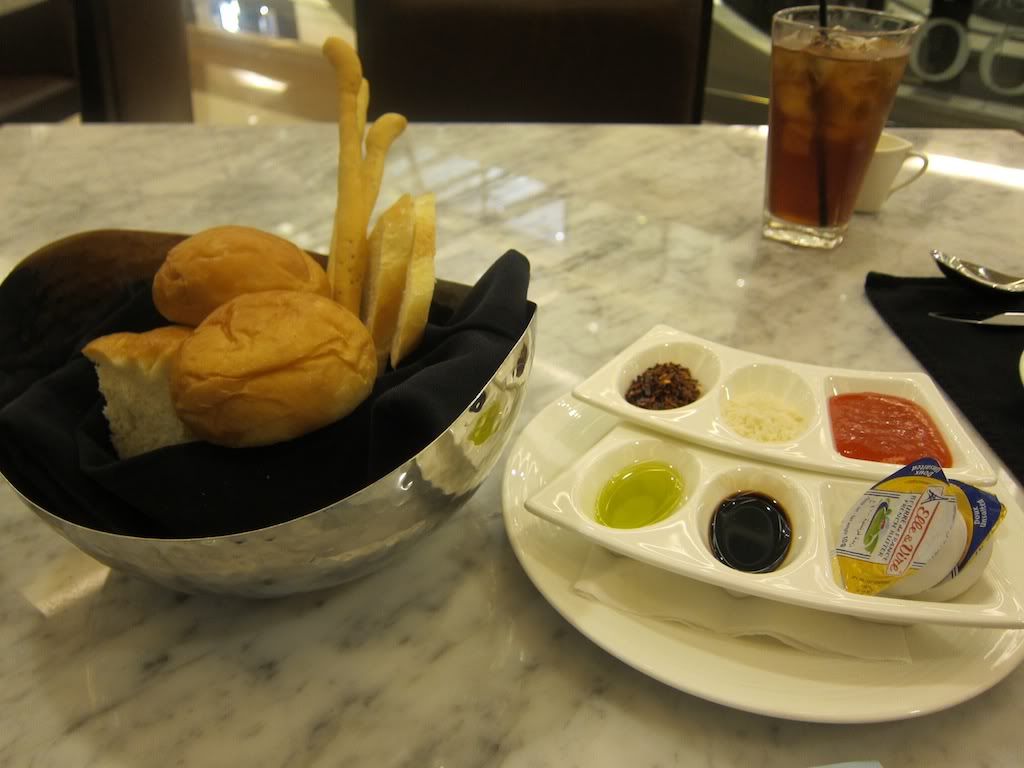 While waiting for our food, all customers are given a bread basket with olive oil, balsamic vinegar, butter, chili, parmesan, and chili sauce. Also because of Tony Bourdain, I've been dreaming of warm, freshly baked bread that is crunchy outside and soft and buttery inside. And boy, this is it. They have awesome bread. They have this bread with black olives in it which is also awesome. It's just a basket of happy carbs. And in case you haven't noticed, carbs are my favorite food.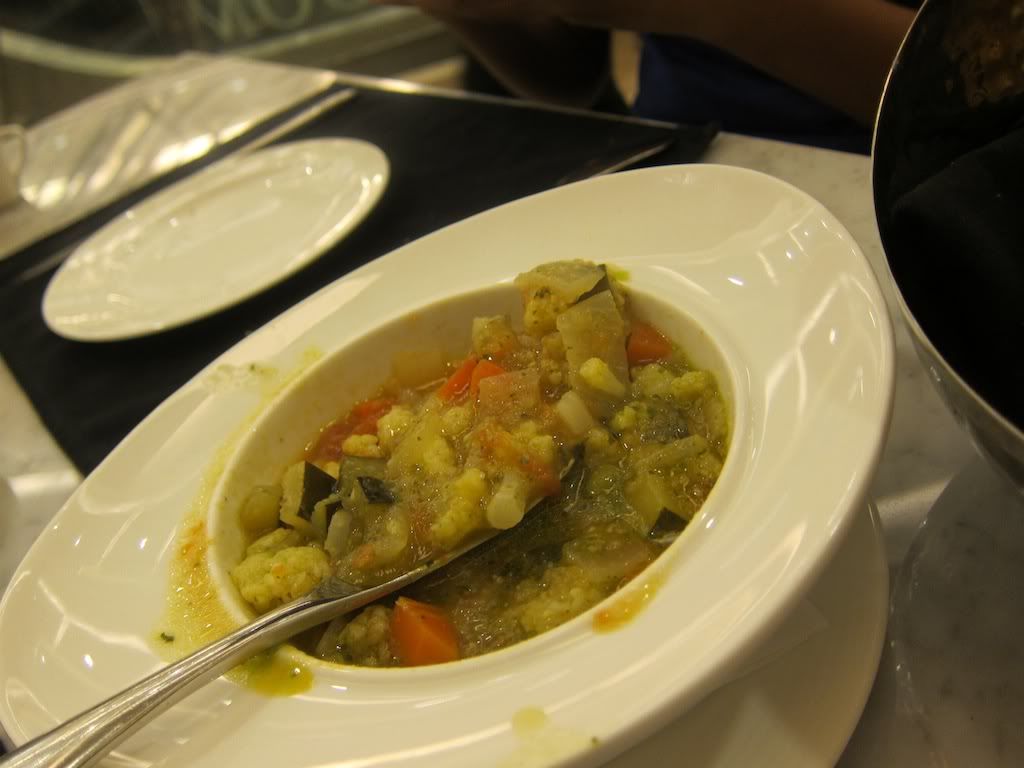 The minestrone doesn't look appetizing, does it? But God was it good. It's one of the very few soups that I don't put additional salt in, because it already tastes lovely. It's chock full of vegetables, it's hearty, flavourful, warm, and just great. I love soups, and now I have one more favorite bowl to add to my list. Even my sister that hates veggies loved the soup.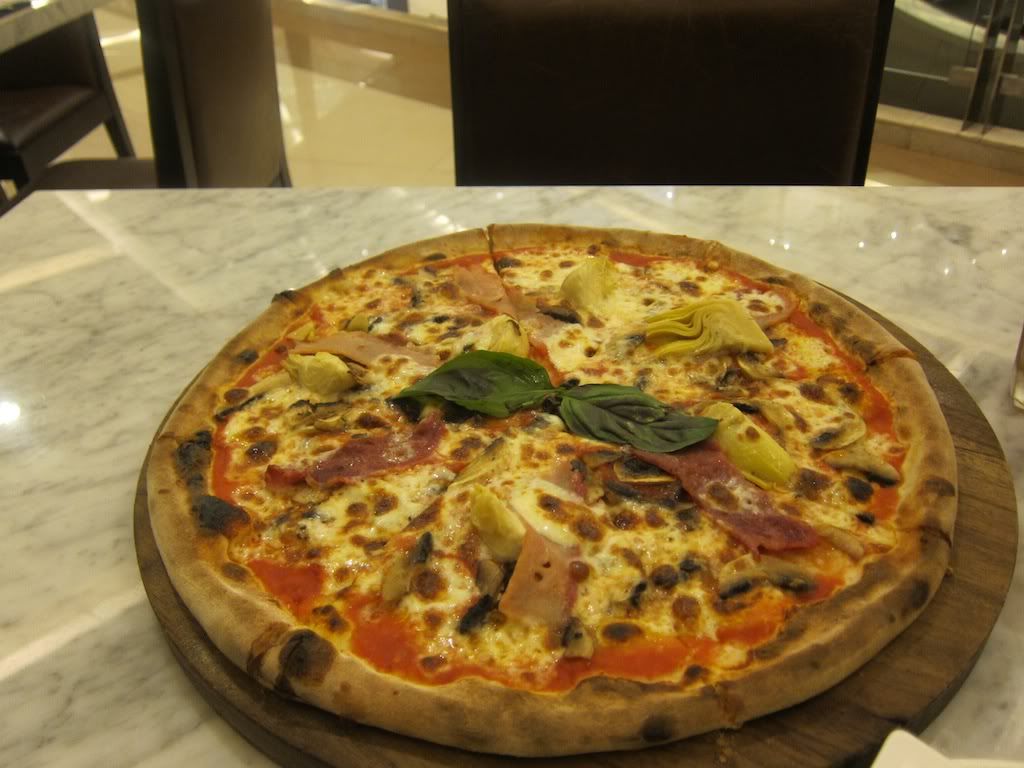 Look at that absolutely beautiful pizza. It's the Stagioni, whose toppings are slices of turkey, mushrooms, and artichokes. I love the fact that it has artichokes, haven't seen them much around here. I usually order the Bismarck, which has chicken, mushroom, and a sunny-side up egg in the center. My verdict is Bismarck is still the champion of all pizza, even though Stagioni is really good. The Stag is fresh, has a very strong tomato flavor, and punchy. The Bismarck is creamier, but spicier. I love both of them. What I love about Sopra's pizza is it's super crunchy and served straight out of the oven. It tastes authentic and rustic. Love em!!!
Other than their divine pizzas, Sopra has absolutely DELIGHTFUL pasta. My sister ordered a carbonara, which I don't usually like because I can't stand creamy pastas. A carbonara is a type of pasta you can find almost in every restaurant that serves pasta, but nobody does it with the sophistication of Sopra. Look at their presentation!! They don't drown their pasta in a bowl of runny white sauce. They put just enough to cover the spaghetti but to not make you nauseous. I love their sauce. I can tell they made it with quality ingredients. And the pasta. OH THE PASTA. The best pasta I've ever had, ever. The texture, the density, the al dente -ness of it, it's just magical. I can eat a huge bowl of just their spaghetti without any sauce or seasoning and I'll be a happy girl. Everybody that loves pasta must try theirs.
Sopra is one amazing Italian establishment. People say they have outstanding wine, too, but I don't drink wine. They have one weakness, however. Their tiramisu is very disappointing. I had it a while back and I can't bring myself to finish it. Granted, I had high expectations, because I once had this heavenly slab of tiramisu at a rustic, family-run Italian restaurant back in Dallas, and it was sooooooo good, I feel like it was a home-made tiramisu made by some lovely grandma in some Italian countryside. But Sopra's........the proportions are just wrong. Too much coffee soaking their ladyfingers, too little mascarpone, waaay too much cocoa powder. It's an insult to tiramisu, I think, especially taking in consideration that Sopra is an expensive Italian restaurant. So, just come for the pasta and pizza. And the soups. The salads are good too. They're quite pricey, but worth every penny. Pastas are around 60-70, the ones with prawns and salmon are above 100, the regular sized pizzas are around 80, and appetizers are around 50.
Right now, Sopra holds the title as the best Italian place in Jakarta, that I know of.