FINALLY, TIME TO WRITE NEW POSTS!
Hello, I'm back with a plethora of pictures from this awesome Indonesian place called Te Sate. Okay so y'all know the restaurant Sate Khas Senayan right? So apparently Sate Khas and Te Sate are owned by the same person. Te Sate serves a more sophisticated take on Indonesian food from all over the nation, and yes it's more expensive, but they're GOOD. Some of their food are great and some of them are just plain good.
It's located in Pacific Place, 5th floor, right in front of the elevator, across Ootoya (an awesome Japanese place that serves Japanese home cooking). The place itself is huge ang goooorgeous.
I love their menu too, it's a kipas sate!!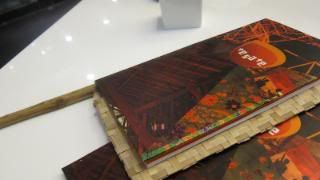 I went with my mom and dad, so we naturally order a LOT of food. We had Rawon Buntut, Gado-gado, Sate Ayam Madura, Sate Lilit, Kepiting Soka Saus Mangga, Sambel Matah, and some Nasi Uduk.
I know that isn't a good picture but oh well. It's basically just regular rawon but with buntut instead of chunks of meat. I thought oh okay, rawon. It tastes good, flavorful, and the longer you let it simmer the spicier it gets (which is great). The absolute best part of this is the buntut itself. If you ever want to taste the definition of meat falling of the bones, this is it. It's SO TENDER and awesome and there is zero difficulty eating it. So yes it's pretty great, even tho I'm not completely blown away.
Sate Ayam Madura. Nama restorannya aja Te Sate kan, so I expect great sate. Sate Khas has amazing sate. This, not so much. The texture is great, really tender, tapi HAMBAR. Somehow rasa bumbunya ga cocok dengan rasa satenya, dan kayak ga ada rasanya, beda jauuuuhh sama yg di Sate Khas. NOT recommended. Kalo mau pesen sate, pesen yang dibawah ini:
THE BEST SATE LILIT EVEEERRRRR. Sate lilit disini ada dua jenis, bebek sama kepiting. Di piring ini ada keduanya. Semuanya enak, tapi yang kepiting HEAVEN. Gue sangat suka sate lilit. Di Bali hobi gue makan sate lilit. But this is better than anything I've ever had. Bumbunya itu perfect. Segala-galanya enak banget. Enaknya dua kali lipat kalo dimakan pake....
THIS AWESOME SAMBEL MATAH. Gue suka sambel. Gue suka sambel matah. Dan ini adalah sambel matah ter enak. Gurih, pedes, seger, paaaasssss banget sama sate lilitnya. Pokoknya kalo lo pengen sate enak seger, pesen sate lilit kepiting + sambel matah ini!!!!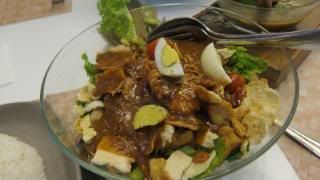 You might ask wth is that???? It looks like a caesar salad but with sambel kacang and emping. Yup, its the weirdest gado-gado I've ever seen. But I know to not judge food by how it looks. It was decent. Fresh, but different. Tahu dan tempenya seharusnya lebih crispy dan nyeresep, tapi bumbu kacangnya enak. Decent lah, tapi porsinya banyak banget. It's pretty funny to look at tho hahaha
Last but not least, the glorious gloooorious Kepiting Soka. This is an awesome dish. Kepiting soka emang cocok banget sama mangga muda. Bener2 fresh, asem pedes seger kyaaaa suka banget. Kalo lo ga suka sambel mangga, lo akan mengubah pikiran lo dengan makan ini. Yep it's even better than the one in Din Tai Fung. Best I've had.
So, the verdict is, I love Te Sate because their food packs a punch. Flavourful and authentic. But its terrible sate ayam makes me mad, man. It's supposed to be their specialty!! Oh well, Sate Lilit FTW!!!!
Best enjoyed with mom and pops because of their steep prices. Like 90rb a dish steep. Yup, fancy Indonesian food it is.