Martabak dan Bandung goes hand-in-hand. Udara yang sejuk dan martabak yang panas, gooey, super manis memang pasangan yang oke. Nah, pertanyaannya, dimana gue bisa mendapatkan martabak yang merupakan epitome dari semua martabak lainnya? Pencarian gue berakhir di Jl Burangrang, yang juga merupakan rumah dari bubur ayam favorit gue. Say hello to my treasure, Martabak San Fransisco.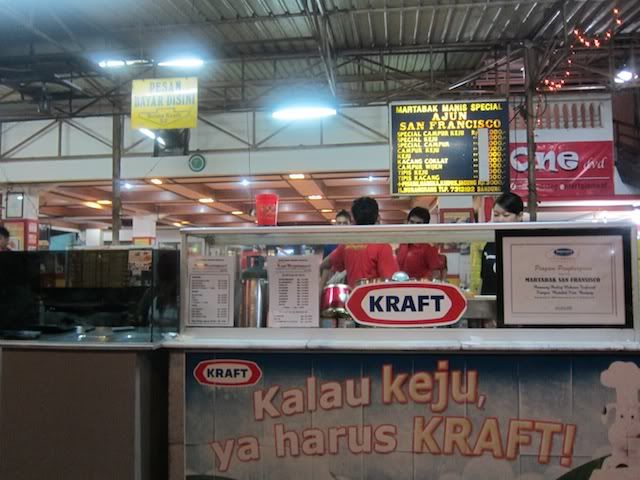 Tempatnya sangat modest, tapi lo pasti akan melihat orang2 bergerombol menunggu martabak mereka selesai diberi sentuhan magic terakhir dari para pakar martabak teroke di dunia. Martabaknya macem-macem banget, ada asin dan manis tentunya, tapi sekaran kita fokus ke manisnya. Ada keju, coklat, wijen, kismis, jagung (?), dan masih banyak lagi. Ada ukuran biasa, medium, mini, dan tipker (tipis kering, in martabak talk). Tapi, superstarnya adalah KEJU SPESIAL. Harganya juga superstar cyin, 51ribu. Tapi worth every penny in every bite. "Tik, kenapa sih lo tergila-gila banget sama martabak ini? Martabak keju kan sama aja dimana-mana?" Salah! Martabak keju tidak diciptakan sama. Kalo ada kasta-kasta martabak, martabak sanfran ini udah brahmananya brahmana.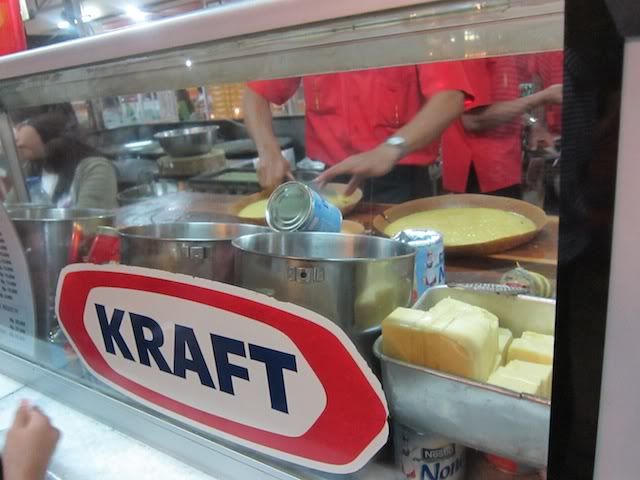 Keliatan nggak juicynya base martabak ini? Dan setelah gue perhatikan, untuk membuat seporsi martabak keju spesial, membutuhkan sebalok keju kraft dan buanyak susu kental manis. Terus saat udah dilipet, diluarnya dilumuri dengan a very generous amount of butter wysman, alias dewa-nya mentega. Bayangkan berapa ribu kalori. Lebih bayangkan lagi kenikmatan luar biasanya.
Yup, kayaknya kejunya aja satu senti. Ditambah dengan juicynya kulit martabak + susu kental manis + butter wysman, SURGA. Gue nggak tau harus menjelaskan gimana lagi. Yang jelas martabak ini enak sampe 3 hari. Di hari ketiga pun tetep nikmat walau udah keras. Tentu saja, best served hot.
I'm really bad at ending passages, so I'll just say don't forget to stop by next time you're in Bandung. DO NOT FORGET. Or you'll face a big lump of regret in your heart everytime you read this post.