Well, I think it'll be massive, because it's a huge buffet with lots and lots of food. Located in one of the most prestigious hotels in Jakarta, eating at The Cafe is an absolute treat. My family had dinner there to celebrate my getting into med school (yay!!). I loooove this place, because they have amazing food and even better desserts. I threw my diet out of the window to just have a feast.
Walking in, I was pretty stunned by the beauty of the interior. It has changed since the last time I was there, which was quite a long time ago. The dining room was divided into three big sections. The left section has a seafood stand and dessert. The middle is the private room. The right section has the rest of the food. We sat in the right. In buffets, I always get terribly excited. Look at all those food! The smell and color was fantastic. I saw Japanese, Indian, and Asian food, even some attempts at modern gastronomy. I wanted 'em all, but to preserve the deliciousness of everything, I decided to not eat too much. I chose to eat sushi and sashimi, some Indian food, the tom yam, and as much dessert as I can stuff into my tummy.
By now I'm sure everybody has noticed that I have an oversized appetite, and it always shows. Look at that full plate. But I'm pretty proud of my plating job haha the plate consisted of some kani salad, tuna and salmon sashimi, a couple of rolls, a tuna nigiri, a tuna handroll, and a shot glass of three kinds of tobiko. The shot glass was very interesting! I was so excited when I saw it because I absolutely love tobiko. I tried to get all three kinds into my spoon and into my mouth, and it was explosive. The saltyness and spiciness from the wasabi tobiko was awesome. I couldn't finish the glass though because it was a lot, but it was awesome. The sashimi was nice and fresh, the rolls were delicious even though I can't quite figure out what's inside. I love love hand rolls so that was great too. The kani salad was amazing! The mayo wasn't too heavy or creamy, it was just right.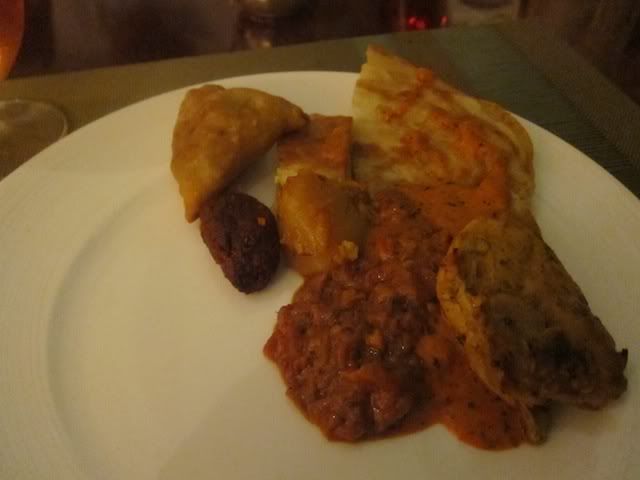 That wasn't a good picture, I know. I took a little bit of everything. I am crazy about Indian food. Unfortunately, I'm the only one in my family, so I rarely get the chance to indulge in the beauty that is Indian food. I took some roti canai, lamb shish kebab, a vegetable samosa, a couple of curries and a piece of chicken. Ahhhh it was beautiful. The flavors popped, complementing the silky and buttery roti. The shish kebab was delicious, spicy and herby. The curries were smooth. It was so good.
Surprise! Cheese naan! The waiter just came up to us, bringing a plate of freshly baked cheese naan, asking if we would like to try some. Of course!!!!!!! This was my second encounter with the cheese naan. The first one was in Go! Curry, where it was filled with grated cheddar cheese. It was good but very very cheesy. The Cafe's version was filled with luxurious mozarella cheese, which also happens to be one of my favorite cheeses. The naan was exquisite!!!!!!! It was soft soft soft, and the cheese filling was very subtle, making it awesome.
Time for plethora of desserts!!!! The desserts at The Cafe were very sophisticated, and their portions were tiny so they were perfect for tasting.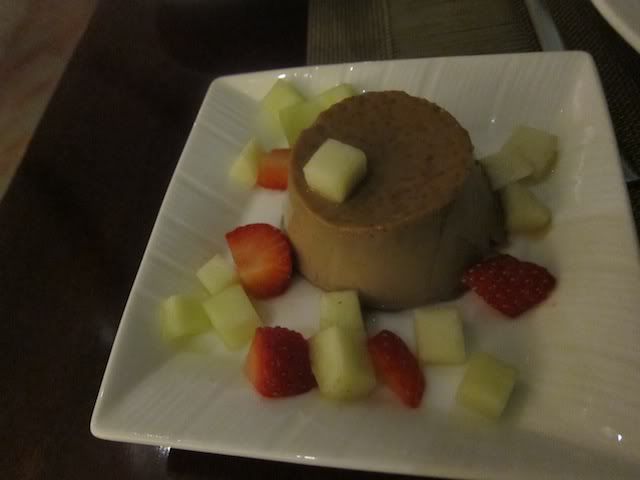 1. creme caramel pudding! The caramel taste was very strong, but thankfully it was balanced with the fresh fruits. Good but wasn't my favorite.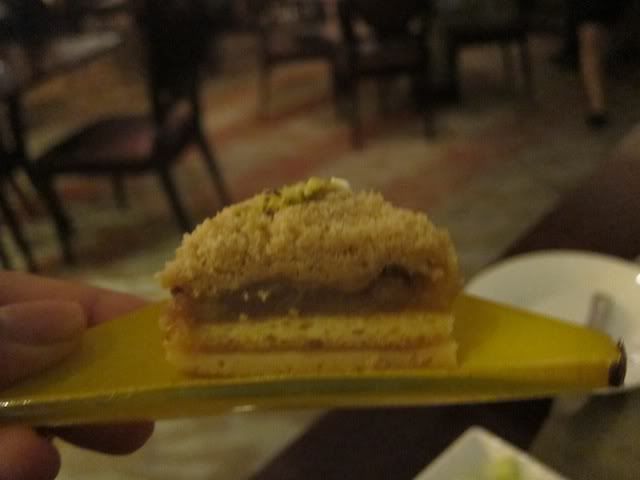 2. Apple crumble!!!! It was amazing. It was small so I don't get too much of it, which was good. The apple filling was smooth, thick, and sweet, an the crust was soft. Cute and delicious.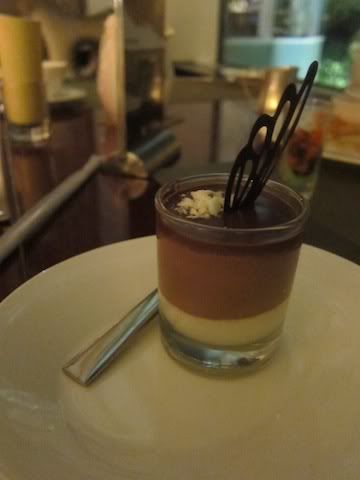 3. The very pretty dessert is a chocolate mousse. I love the presentation, so sophisticated. A layer of white chocolate, lots of milk chocolate, and a thin layer of dark chocolate makes this dish perfectly balanced and delicious. The mousse was so smooth with beautiful consistency. It wasn't too much of anything, just right. Favorite chocolate dessert ever!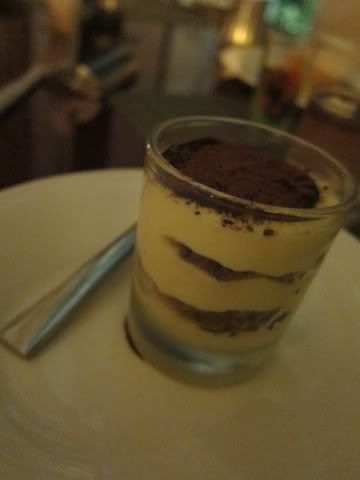 4. Behold the simplicity of the best tiramisu in town. Well, the best according to me. The taste of coffee and the cocoa powder complements the sweet mascarpone in such a way, that when you put a spoonful in your mouth, it turns into a piece of heaven. Ah, so good.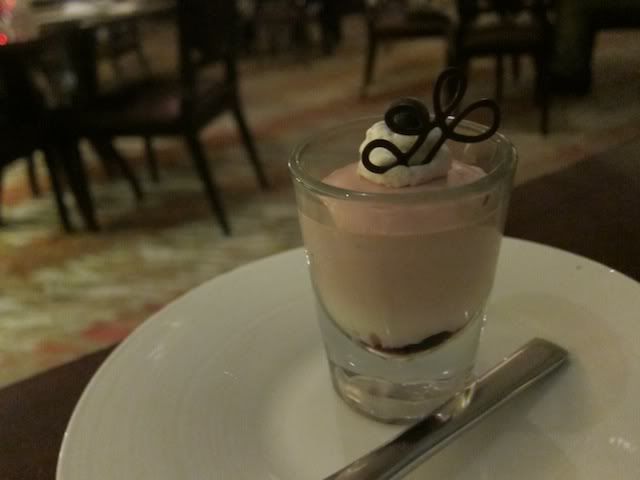 5. Last but not least, my favorite strawberry mousse!! The flavor of this dessert is very close to my heart, it's the flavor of my childhood. I remember going to all sorts of wedding receptions, and there was one favorite cake of mine, a piece of thin sponge with strawberry mousse and jelly on top. I always look for that particular cake when I go to parties, even now. This shot glass of strawberry mousse was just what I've always been looking for. The silky smoothness of it, the subtlety of its flavors, the small lumps of strawberries from the jam in the bottom. Amazing.
So, I think it's clear why I love this restaurant, right? I think it's even more special because of the occasion and because we rarely dine here. And I'd like too keep it that way, to keep The Cafe as a special place in my heart.