Italian food isn't hard to find anywhere in the city. Well, who doesn't like pasta? Every restaurant has their take on pasta, usually putting out sure-fire hits such as the carbonara and the bolognese. Most people don't really care about their pasta, as long as it's drenched in lots of sauce and cheese. Right? People have the tendency to order what they know, to make sure their money isn't wasted on some weird concoction that isn't guaranteed to be good. This behavior almost always results in the reluctance of trying weird food, including pasta. Squid ink-infused pasta has become more common nowadays, but my friends still look at me weird when I talk about it. Especially when they know that the pasta's black. Pesto is very common, but some people are still deterred by its green color and oily feel. So what do they do? They order the same oversized pasta with a gallon of white cream sauce. If you come to a pasta establishment like Spageddies and order your 'usual', you, my friend, are missing out.
I'm not saying Spageddies has the best and the widest variety of pasta, no. They do have good pasta. Judging from the restaurant's decorations, I was expecting westernized Italian food, greasy and creamy. I was losing hope that I would find some fresh, interesting pasta here. Their location in Senayan City doesn't help, it was adding to my judgment that this is a sell-out pasta place that doesn't have a life of its own.
I was wrong. Opening the menu, I was greeted with items that sound really good, and they don't only serve the commercial Italian dishes. Turns out, they have quite the interesting roster of pasta. I was with my mom, and we ordered a Baked Escargot (still in the search of the best Escargots in town), Squid Ink Seafood Ravioli, Manicotti and Cannelloni combo, and a tiramisu for dessert. I succeeded in persuading my mom to order a different pasta, which was the combo, because my mom was one of those people, her choices confined by her love of creamy fettuccines.
Yum yum escargots! As usual, the escargots are served with two slices of toasted, presumably Italian, bread. The bread was awesome. Crunchy yet soft, fresh from the oven. The smell of this dish is dominated by the smell of garlic. It was indeed garlicky, savory, and delicious. The tenderness of the escargots were accompanied by the slight crunch of garlic and also the toast. Very good, a great appetizer choice.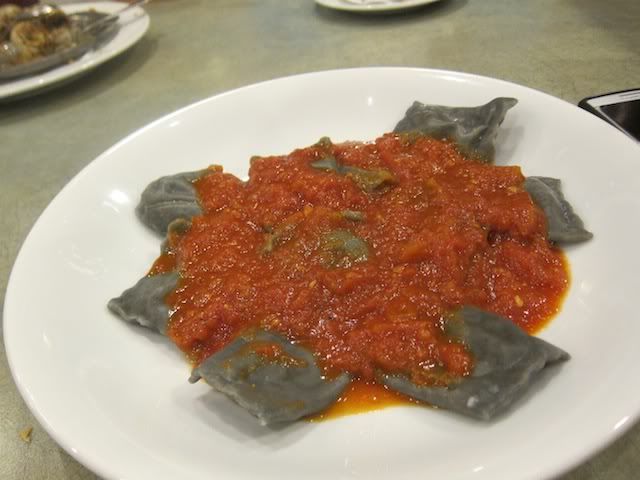 What I like about Spageddies is their unpretentious approach to food. My ravioli came looking bare, just the seafood-filled pasta and some fresh looking tomato sauce. No fancy attempts here, just food, basking in the glory of their bareness. The tomato sauce has zest, with a nice balance of acidity and heat. The pasta was nice and thick, and moist. I love its texture, al dente and dense. The filling was a bit lacking though, it didn't fill up the insides of the ravioli like I expected it to. But it tasted nice, I could definitely taste the prawns and crab.
My mom's Cannelloni and Manicotti combo looked delicious! It smelled great too. One of 'em is filled with cheese, the other chicken. I love the fact that they have two sauces, a fresh, spicy tomato sauce and a cream sauce. The contrasting flavors give balance, so the cheesiness of the fillings didn't come across as overwhelming. And it really was good. I'm not a fan of creamy pastas, but this dish is delicious, and very filling.
After all that pasta, I somehow managed to free up some space in my stomach for a slab of their tiramisu. It looked nice and unfussy, so I had high hopes. It was decent. The mascarpone was nice and sweet, but a little too thick and creamy. I like my tiramisu light, so I couldn't finish the whole dish. But it was decent, a pretty standard tiramisu.
Bottom line is, as you may have noticed, I love pasta. And I love them simple. Spageddies is a nice place to go have lunch in, with very filling dishes. Out of 10..... I'm giving it a 7,8.